Home Improvement Loans for Mobile Homes: A Comprehensive Guide
Purchasing a mobile home can be an affordable way to own your own home. However, you may find that your manufactured home needs renovations or upgrades after living in it for a while. Financing home improvements for a mobile home can be tricky since these properties are classified as personal property rather than real property. 
Fortunately, there are specialized loan programs that allow you to borrow money for remodeling, repairs, additions, and other upgrades to your manufactured home.
You can get a home improvement loan on a mobile home. Options include personal loans, FHA Title I loans, Home Equity Lines of Credit (HELOC), chattel mortgages, VA loans, and USDA Rural Development Loans. Eligibility depends on factors like credit score, income, home value, ownership status and property type.
This guide provides an overview of the different types of financing options available, as well as requirements, costs, and other key factors to consider when applying for a home improvement loan on a mobile home.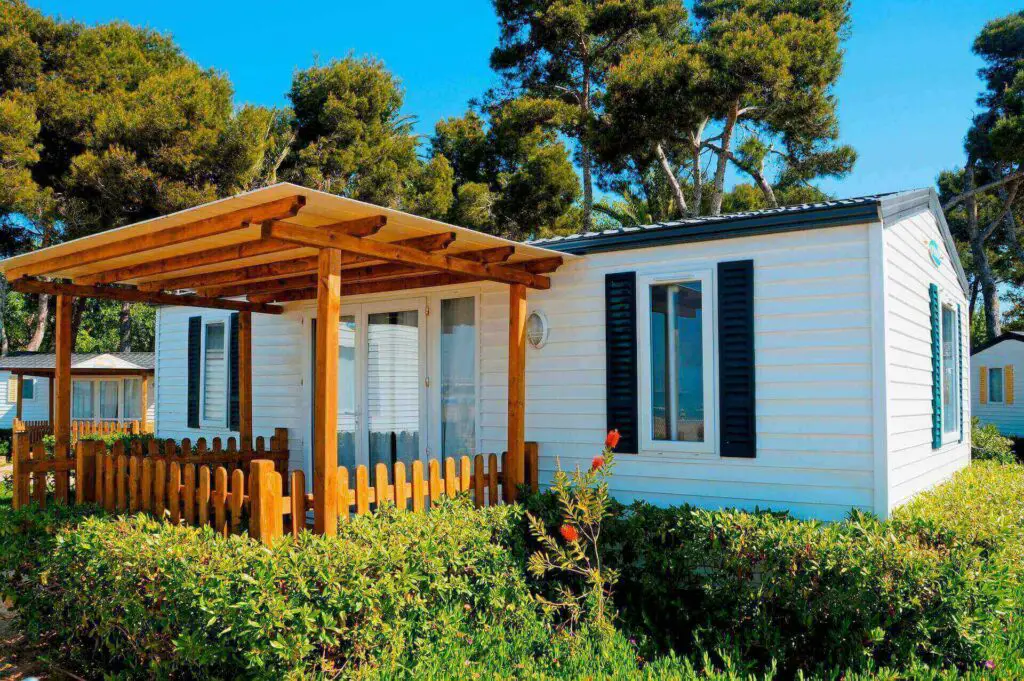 What Are the Types of Home Improvement Loans Available for Mobile Homes?
You have several options for financing home improvements for your mobile home. The most common types of loans include:
1. Personal Loans for Mobile Home Improvement
Personal loans from banks, credit unions, and online lenders can provide funds for upgrades and renovations. These unsecured loans do not require collateral, so they may be easier to qualify for than a home equity loan. However, interest rates are usually higher. Loan amounts and terms vary by lender.
2. FHA Title I Loans for Mobile Homes
The Federal Housing Administration (FHA) offers Title I loans that can be used for property repairs and improvements. These government-backed loans have low down payments and flexible credit requirements. Borrowers can take out multiple loans up to a maximum amount.
3. Manufactured Home Equity Line of Credit (HELOC)
A home equity line of credit uses the equity in your mobile home as collateral. This revolving credit line allows you to borrow as needed up to a set limit. Interest rates are usually variable. HELOCs involve fees and closing costs, and it may be difficult to qualify if you have low equity.
4. Chattel Mortgage for Mobile Homes
Also known as a chattel lien, this loan uses your mobile home as collateral while treating it as personal property. Loan amounts are based on the value of your home. If approved, the lender places a lien on the home's title until the loan balance is paid off.
5. VA Loans for Mobile Homes
Veterans Affairs (VA) loans guarantee mobile home loans made by private lenders. These loans allow qualified borrowers to purchase a manufactured home with no down payment. Refinancing a mobile home to make repairs is also possible with a VA loan.
6. USDA Rural Development Loans for Manufactured Homes
The U.S. Department of Agriculture's Rural Development program includes loan options to buy, repair, relocate, or refinance a mobile home. These government guaranteed loans are for low to moderate income households in rural areas. 
What Are the Requirements to Qualify for a Mobile Home Improvement Loan?
To qualify for financing for renovations to your manufactured home, lenders will evaluate certain eligibility criteria. Here are some common requirements:
Credit score – Most lenders look for a minimum credit score between 580 to 640. The higher your score, the better the loan terms you may qualify for.
Income – Having enough income to comfortably make the monthly loan payments is key. Lenders may look at your debt-to-income ratio.
Home value – For home equity loans and lines of credit, your home must have sufficient equity available to borrow against.
Home ownership – You must own your mobile home and land to qualify for certain loans. With a chattel mortgage, you can own just the home.
Land lease – Loans may be restricted if you lease a lot for your manufactured home. Longer lease terms are generally better.
Property type – The mobile home cannot be classified as recreational to qualify for financing. 
Other factors like your credit history, existing debts, and loan purpose may also be considered during the application process.
How to Apply for a Home Improvement Loan on a Mobile Home
The process of applying for home improvement financing on your manufactured home involves several key steps.
First, research different loan programs and lenders to find one that meets your specific needs, budget, and eligibility. Banks, credit unions, and specialized mobile home loan companies all offer options to consider. If you are a veteran or live in a rural location, explore VA and USDA loans as well.
Next, check your credit report and score so you fully understand your financial standing before submitting an application. Lenders will evaluate factors like your income, existing debts, credit history and score when deciding on loan approval.
Once you select a lender to apply with, gather all of the required documentation they will need to process your application. This usually includes financial statements, tax returns, photo ID, and the title to your mobile home. If you lease land, provide a copy of your lot lease agreement.
With documents in hand, complete the lender's loan application forms fully and accurately. Pay any associated application fees. Ask questions if you need help with any part of the paperwork.
After submitting your application, be patient as the lender verifies your information and makes an approval decision. This process can take anywhere from a few days to a few weeks depending on the loan program. If approved, you'll close on the loan and receive the mortgage funds to finance your manufactured home improvements.
What Are the Interest Rates and Terms of Home Improvement Loans for Mobile Homes?
Interest rates and repayment terms for mobile home improvement loans can vary:
Personal loans typically have higher interest rates of 10% to 36% and terms of 2 to 7 years.
Home equity loans and HELOCs may have interest rates starting around 5% to 6% for variable rates. Payback terms are usually 5 to 20 years.
FHA Title I loans, VA loans, and USDA loans can offer below market interest rates with extended repayment terms up to 20 to 30 years.
Chattel mortgages carry higher interest rates but flexible terms tailored to your budget.
Be sure to compare APRs (annual percentage rates) as they reflect the total yearly cost of the loan including fees. A longer repayment term generally means lower monthly payments but higher overall interest paid.
What Are the Benefits of Getting a Home Improvement Loan for a Mobile Home?
Financing upgrades to a manufactured home offers several advantages:
Tap your home equity without having to sell or take out a second mortgage.
Complete larger projects you can't afford to pay for in cash.
Make repairs that will improve home values and quality of life.
Lower energy bills through efficiency upgrades like new windows. 
Customize your home layout with additions like a master bedroom.
Increase accessibility with renovations like walk-in bathtubs or ramps.
Take advantage of lower interest rates and monthly payments with special lending programs.
Improve exterior aesthetics through landscaping, siding replacement, deck additions, etc.
What Are the Drawbacks of Getting a Home Improvement Loan for a Mobile Home?
While they allow you to pay for improvements now instead of later, loans for mobile home renovations also have some potential downsides:
Interest charges increase your total project costs over time.
Loan payments add another monthly expense to your budget.
You put your home at risk if you default on a secured loan.
Late fees and penalties get applied if you miss payments.
Closing costs and upfront fees add to your total costs.
Some repairs may not boost your home value by as much as you owe.
Equity loans decrease how much available equity you have in your property.
Having more debt can negatively impact your credit score.
How Can You Use the Funds From Your Mobile Home Improvement Loan?
Mobile home improvement loans provide financing to make a variety of upgrades and renovations to your manufactured home. With the funds, you can remodel rooms like the bathroom and kitchen to create a more modern, functional space.
Replacing worn surfaces with new flooring, cabinetry, fixtures and appliances opens up design possibilities. Loan money can also go towards painting interior and exterior walls, enhancing curb appeal.
If your mobile home is in need of structural repairs or system upgrades, loans make it possible to replace the roof, siding, windows, plumbing and electrical components to improve safety and energy efficiency. You may also have enough financing to construct additions like a master suite, sunroom or porch.
Some borrowers invest in accessibility renovations like wheelchair ramps and walk-in bathtubs to improve mobility. Landscaping, building a deck or storage shed, and installing new driveways are other examples of approved uses for home improvement loan funds for manufactured housing.
What Are Some Alternative Ways to Finance Home Improvements for a Mobile Home?
If you are unable to qualify for a home improvement loan, here are a few other options to consider:
Save up and pay for projects gradually out of pocket.
Use credit cards with 0% promotional financing periods.
Take out a secured personal loan using other collateral.
Use your tax refund or year-end bonuses to fund fixes.
Borrow from your retirement savings then repay the funds.
See if utility or state efficiency programs offer rebates on upgrades.
Negotiate with sellers to include desired renovations in a new manufactured home purchase.
Conclusion
Completing renovations and upgrades to your mobile home can help you create your dream space and increase property values. But finding affordable financing is crucial, since not everyone can pay for major improvements upfront. With an understanding of the specialized loan programs available for manufactured homes, you can determine the best loan option for your budget and needs. Just be sure to shop around, compare total costs, and read all agreements before committing to any mobile home improvement loan.
Frequently Asked Questions(FAQ)
Are renovation loans a good idea?
Renovation loans are a type of loan designed to help borrowers finance home improvements. They can be a good idea for those who need to make repairs or upgrades to their home, but don't have the funds to do so. However, it is important to consider the cost of the loan and to make sure that the improvements will add value to the home before taking out a renovation loan.
How does a HUD loan work?
A HUD loan is a mortgage loan insured by the Federal Housing Administration (FHA). It is designed to help low to moderate-income families purchase a home and is backed by the U.S. Department of Housing and Urban Development (HUD). Borrowers must meet certain eligibility requirements, such as a minimum down payment, to qualify for a HUD loan and must pay an upfront mortgage insurance premium in addition to their monthly mortgage payments.
Should you use a personal loan for home improvement?
A personal loan can be a great way to fund home improvement projects, as it provides a lump sum of money with a fixed interest rate and repayment timeline. However, it is important to consider the total cost of the loan, including fees and interest, to ensure that the loan is the most cost-effective option for the project. Ultimately, the decision to use a personal loan for home improvement should be made on a case-by-case basis.
What is a FHA Title 2 loan?
A FHA Title 2 loan is a type of loan insured by the Federal Housing Administration (FHA). It is designed to help low- and moderate-income borrowers purchase or refinance a home. The loan is available to borrowers with credit scores as low as 580 and down payments as low as 3.5%.